Holiday Market and Trolley Night 2018
"Thanks for making the first Holiday Market and Trolley Night a success"
The South Main Association played host to the first South Main Holiday Market on Friday, November 30, 2018 from 4:00 pm to 9:00 pm in conjunction with the South Main Trolley Night. The one-day event took place on South Main Street in the heart of the historic arts district of downtown Memphis, Tennessee. The event combined a unique holiday shopping experience featuring over 30 vendors with hand-crafted artwork, crafts, gifts, and lots of unique Memphis creations paired with live music, performances and games alongside our local art galleries, restaurants, shops and bars. Not even rain could stop our shoppers, trolleys and the longest-running street party.
The Holiday Market brought visitors from all over the Memphis area for an afternoon and evening of fun, family and festivities to kick off the holiday season. As always, Trolley Night (and Holiday Market) was a free event.
Market Vendors
South Main Hemp
Vitalant Mid-South Blood Center
Memphis 901 FC Soccer
Lemon Pop Vintage Shop
Sarah Bishop Jewelry
Memphis Express Football
Sue Layman Designs
Troy Glasgow Photography
Somi Decor
Stoerger Art
MEK Design
Tonya Pearce Art
Dedrick Rogers Art
Meri Maple Jewelry
The Gift Wrap
Gifts from Nature
Cat's Ballroom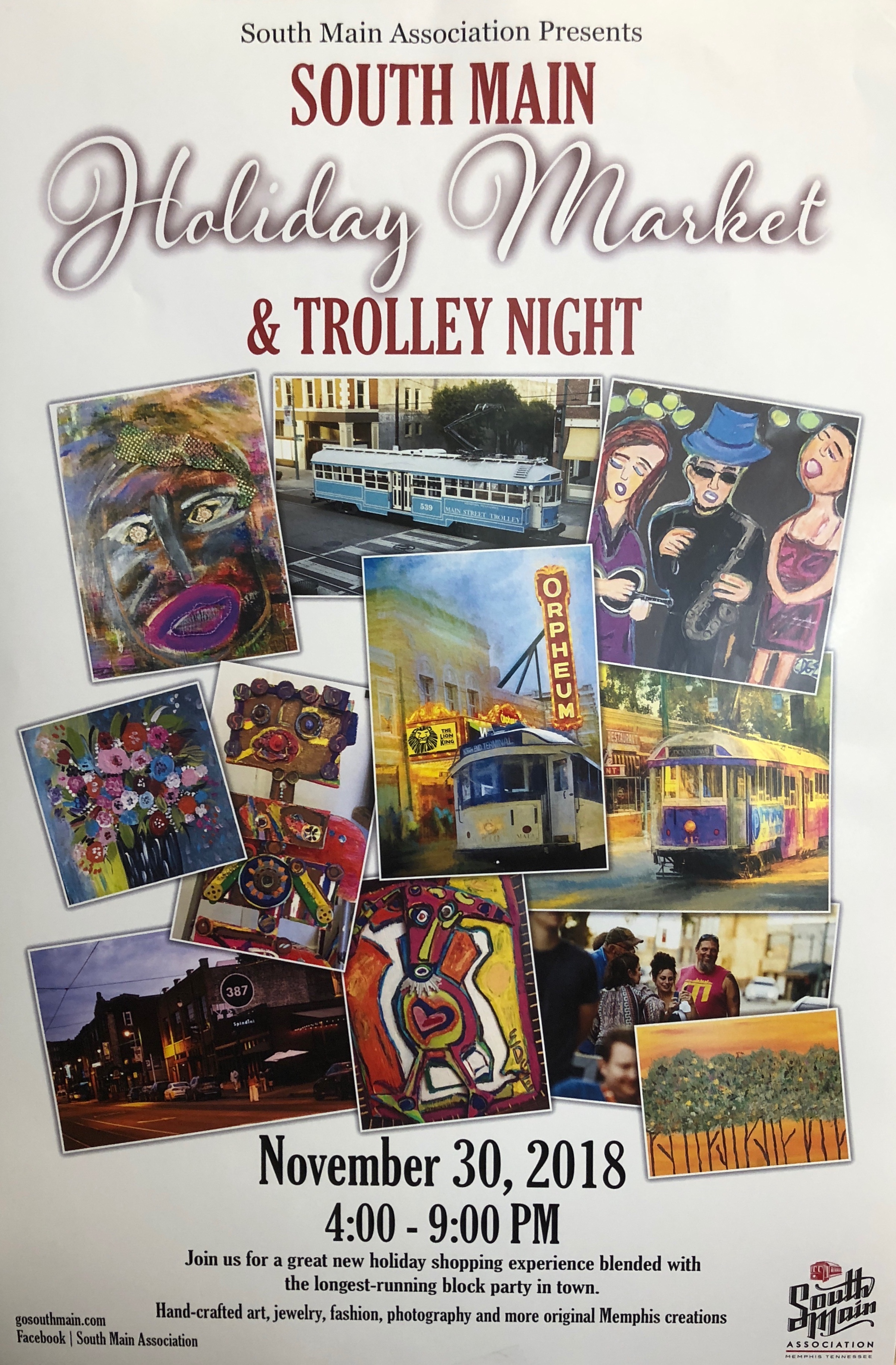 South Main Holiday Market & Trolley Night Official Poster
Special thanks to Rebecca Dyer at the South Main Market and Erika Smith at Stock and Belle, and all of our friends at Art Village Gallery, WA Films, Edge Gallery, Jack Robinson Gallery and Obsidian PR for hosting our market vendors.
Check the Trolley Night Facebook Page for future fun happenings!